Electrical Repair Services
Never be left in the dark with Art Plumbing, AC & Electric! Call us today for immediate service on any of your electrical issues, or click on SCHEDULE SERVICE, complete the form right now and we'll call you back as soon as possible! There is no job too big or too small – our goal is 100% customer satisfaction.
Residential Electrical Services
Service Upgrades & Electrical Panels
Circuit Breaker Replacement
Dedicated Circuit Installations
Hi-Tech Troubleshooting
Whole House Surge Protection
Lighting Services

Light Fixture Installation, Replacement, Repair
Home Security Lighting
Specialty Receptacles
Bathroom Lighting
Recessed Can Lighting
Track Lighting Installationv
Motion Sensor Switches & Lights
Landscape Lighting

Electrical Set-Up & Rewiring For Homes
Electrical Outlet Installation & Repair

Appliance Outlets & Circuits
GFCI Outlet Installation

Ceiling Fan Installation & Replacement
Attic Fan Installation & Replacement
Exhaust Fan Installation & Replacement
Smoke Detectors / Carbon Monoxide Detectors
Aluminum Wiring Repair/Replacement
Thermal Imaging
Pool & Hot Tub Wiring
Vehicle Charging Stations
Emergency & Backup Generator Installation
Electrical Safety Inspections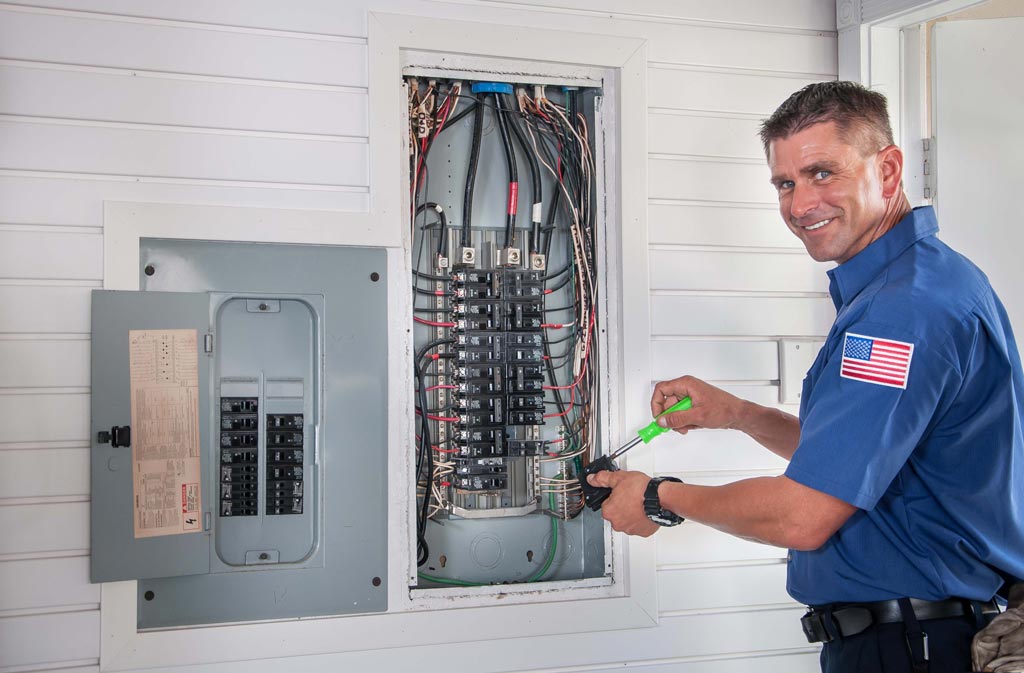 Affordable & Reliable Electrical Services
There is a very good reason why tens of thousands of South Floridians have trusted and counted on Art Plumbing, AC & Electric for prompt, reliable service since 1983. This family owned business has come a long way: from our humble beginnings as a family start up to a fully licensed and insured premier residential and commercial plumbing and air conditioning service provider of South Florida. We strive to provide the quality, professional service approach of an established company while maintaining the personal, one-on-one relationship that is unique to a family owned and operated business.
When it comes to servicing your residential and commercial electrical needs look no further than Art Plumbing, AC and Electric. We can, and will, handle everything from simple installations and replacements to electrical demolitions, rewiring, and inspections. Call us now for a full list of our electrical services and advice on how we can help you.
Now Serving Broward County, Palm Beach County & Miami-Dade County
NEED EMERGENCY SERVICE?
What Our Clients Are Saying...
Peter F.
February 20, 2023
Great job!
Tom Martin
February 20, 2023
Brandon performed thorough a/c maintenance. He explained the drainage system for the a/c in the condominium and answered all questions and listened patiently.
EXCELLENT service -- Happy with ALL technicians from ART PLUMBING AIR CONDITIONING &
HEATING and office staff over the year they service my condo.
Thank you ALL!
Jim Jednak
February 18, 2023
Casey was friendly, professional, and fast. Great company to work with!!!
Char Marie
February 18, 2023
Elizabeth was wonderful with getting me a appointment right away. Even calling to see if I wanted a earlier appointment since there was cancellations. Louis was wonderful. He went over everything with me and most of all was honest with everything that would have to be done. He took his time and even took me aside and explained everything. I will be doing business with Louis and now I even know they don't just do ac but many other services that I also will be needing. Thank you Louis 20 stars out of 10.
Barbara Waldspurger
February 18, 2023
First appointment with Art's Plumbing and Air Conditioner and was very satisfied. The gentleman was extremely nice and spent time explaining the program.
Carmin Cardona
February 18, 2023
Came to give us a bid on our water tank installation
Richie B
February 18, 2023
To be honest I gave 4 stars because we just got the new A/C & Tankless Water heater does we haven't used it much yet . Ryan was awesome the entire crew was conscientious. Their water heater / plumber worked patiently in tight quarters . This is the 2nd time I've used Art & very satisfied
Update : 2-23 , Brandon did checkup maintenance and was quick & responsive. I like Art 's notices on who is coming & follow ups